There's been LOTS of buzz recently as Janome announced the arrival of 10 – YES! 10 NEW sewing machines this Fall and Winter season. Can you believe that? 10! Who wouldn't LOVE a new sewing machine!
Janome educators were recently given the assignment to sew a variety of samples to correspond with showcase our new machines.  Among these is our fabulous NEW Janome Skyline S6. You might already be familiar with the whole Skyline range of machines; Skyline S3, Skyline S5, Skyline S7 and Skyline S9 as they're quite distinctive in the Janome line-up with their beautiful soft blue accents. Did you know you can get a super-useful and cute accessory case in that same blue to match?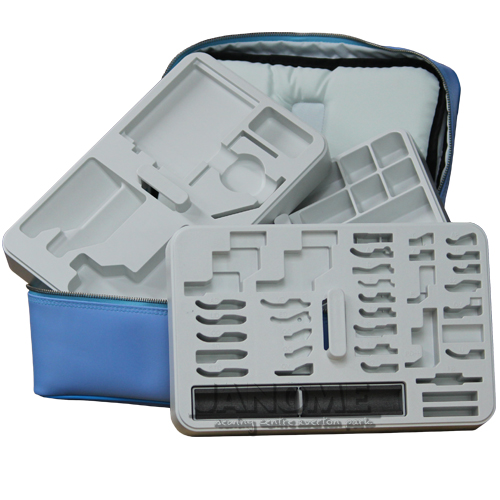 Visit your local Janome dealer for more information.
Among many features, what sets the Skyline S6 apart from the others is it's dynamic new Indigo Blue colour accents.
It was like Christmas when my package of fabric for my samples arrived in the mail last summer as I couldn't wait to rip into it to see what fun and exciting goodies were inside! A beautiful Indigo Blue layer cake was among the treasures and with it I made a table runner (as many of our Jnaome Canada Educators did)
but I took it a step further ….and sewed a set of placemats to go with the table runner
and even a set of 4 coasters/ mug rugs with some of the scraps!
Nothing goes to waste in my sewing room, and with the escalating cost of fabrics these days, I feel it is indeed valuable treasure not to be squandered.
One reason I chose to make the placemats is that I wanted to try a different quilting technique on each using a variety of Janome presser feet and accessories:
Please see your Janome dealer for more information about any of the above mentioned products and machines. If they don't have this, or any other item in stock at the time you ask,  they can always order it in for you.
I will delve into the specifics of how I made the placemats; highlight their respective presser feet chosen and discuss the quilting techniques in upcoming blog posts so be sure to check back for janomelife posts to come.  Better yet, "follow" the Janome Life Blog so you don't miss a post as an email alerts you to every new post published.
To finish everything, I used my favourite attachment, The Janome Quilt Binder Attachment for a quick, easy finish. Take a look at that mitre. Not too shabby, isn't it?  With so many corners, placemats and table runners are great projects to practice using the binder attachment, and yes, practice makes all the difference. Sure, I've been sewing and quilting for almost 30 years, but I still need to practice, test and experiment to help ensure better, more desirable results in the end.
Check back to the Janome Life Blog for an upcoming post on how to use the Janome Binder Attachment as well. Or do a search for the many posts we have already done over the years.
To finish the coasters/mug rugs I used the Janome Wide Beading Foot to zig-zag, or couch, some strands of yarn around the edges; fast, easy and fun to do, which, for me, is one of the main reasons I want to sew things for myself. It's FUN, or at least, it should be. With Janome machines, presser feet, accessories and attachments it's definitely FUN!
Now, onto sewing more samples!
What FUN projects will you make with YOUR Janome machine today?