Did you know there are different sizes and types of needles? Your Janome Dealer has a variety of needles from which to choose.
Each type of needle has a specific purpose. There's Stretch and Ball-Point needles for knit fabrics, Leather and Denim for thicker, more dense fabrics, for example. The type and size of the needle is appropriately labeled on the package, but Janome has also tried to make needle selection easy by color-coding some of the most common choices, as well.
Janome Blue Tip Needles are a size 11, which means they have a thinner, more slender shaft than the size 16 Denim needles above. This makes them a good choice for thinner, more delicate fabrics like chiffon, organdy, etc. as they won't leave as big a hole in the fabric, and are a good choice for the dense stitching of embroidery for the same reasons. The needles have a larger eye and a slightly rounded ball-point at the tip, which makes them a good choice for sewing some knits, as well.
For more about the many types of Janome Needles, click HERE.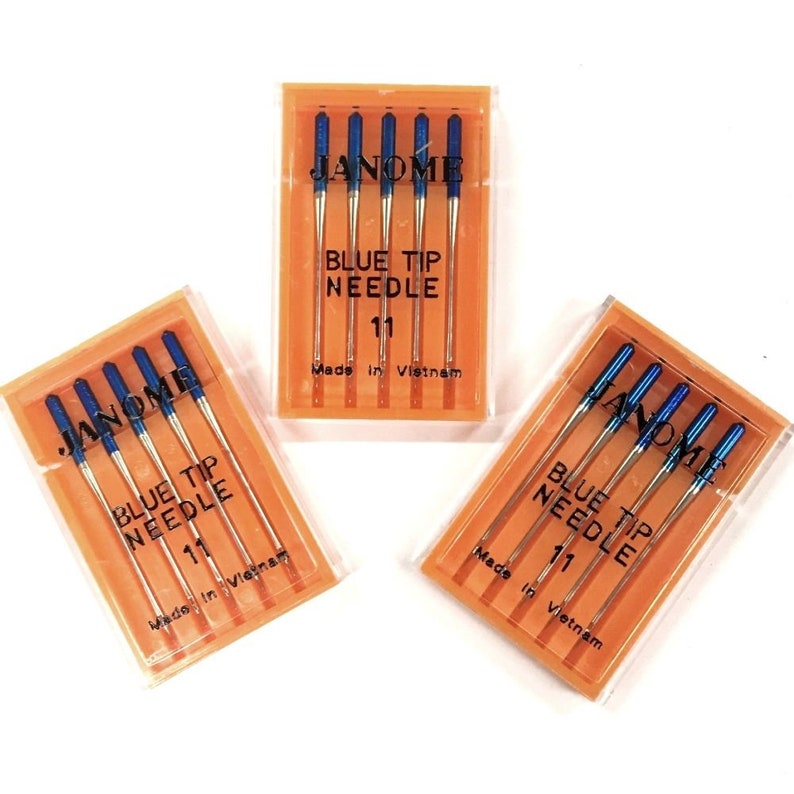 Janome Red Tip Needles are a size 14, which means they have a thicker, more study shaft than the Janome Blue Tip size 11 needles above. They have a sharp point and larger eye to accommodate thicker threads. They are a good choice for the majority of everyday sewing; piecing quilting cotton, home-dec fabrics, but they're a also a good choice for embroidery as the larger eye will help prevent thread breakage. Always do a test sample with your fabric and thread to determine which needle is best for your project. If your thread is fraying and breaking, try going up a needle size, from an 11 to a 14, for example.
Conversely, if the thread is springy and twists and bounces around, try reducing the size of the needle; one with a smaller eye to control the thread.
If you're getting skipped stitches, try a Janome Purple Tip Needle size 14 with it's unique Cobra or flared head, just below the eye of the needle, which helps spread the fibers of the fabric so the needle thread can intersect with the bobbin thread more easily, especially through thicker, more dense layers. For many free-motion quilters, and those who use tightly woven batik fabrics, this is their needle of choice! It's also a great choice when using metallic threads and densely digitized embroidery designs. Once you have tried these needles you will always want to have a pack on hand for emergencies! Don't be caught without them!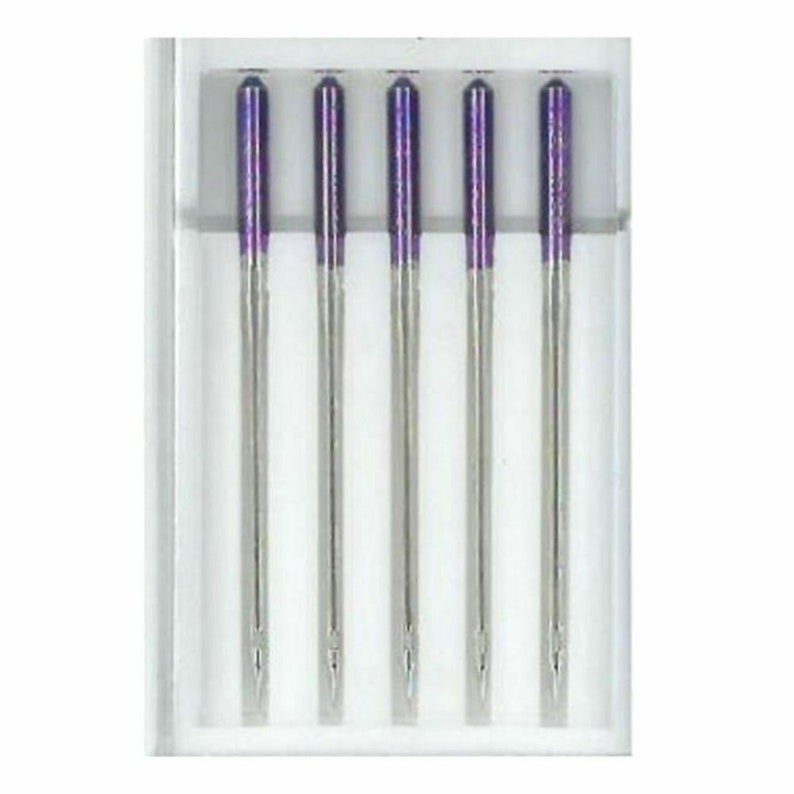 As a general rule, change your sewing machine needle about 8 hour of sewing, or with every new project. Dense fabrics and sewing through thicker layers will dull the needle more quickly. It's a good idea to also inspect the opening in your needle plate from time to time, especially if you've recently broken a needle. A tiny imperfection, or burr can catch the thread and cause breakage. As part of your inspection, be sure to clean your machine often, particularly under the needle plate, around the bobbin area and feed dogs, as well!
Check out our handy Janome Needle Reference Guide on our Janome.CA website to help select the right needle for your project, and…….
Visit your local authorized Janome dealer to purchase your Janome needles!!!
Happy Sewing!