I am very excited to announce that I am going to be a Nana! My daughter is going to have a girl in December. I then found out my daughter's sister-in-law was pregnant with identical twin boys. Then our grand daughter told us she is also expecting a girl! Four babies in four months. Oh my goodness!!!
I have been very busy sewing baby things, and have been using the Janome MC 550E embroidery machine to make some of my projects. The embroidery machines are not just for making an embroidered block! The in-the-hoop (ITH) projects are fantastic and so much fun to create.
The Janome MC 550E has a few ITH projects built-in to the machine, which are great to get you started if you're new to the concept. There are also so many fabulous sites to find projects to do and one of my favorites is Sweet Pea Embroidery Designs.
I typed baby bib in the search box and came up with this long list of bibs. All types of different animal bibs; I chose the elephant bib.
As this was an ITH applique design, it was the perfect time to use the new Janome Mini Duckling 4″ Applique Scissors.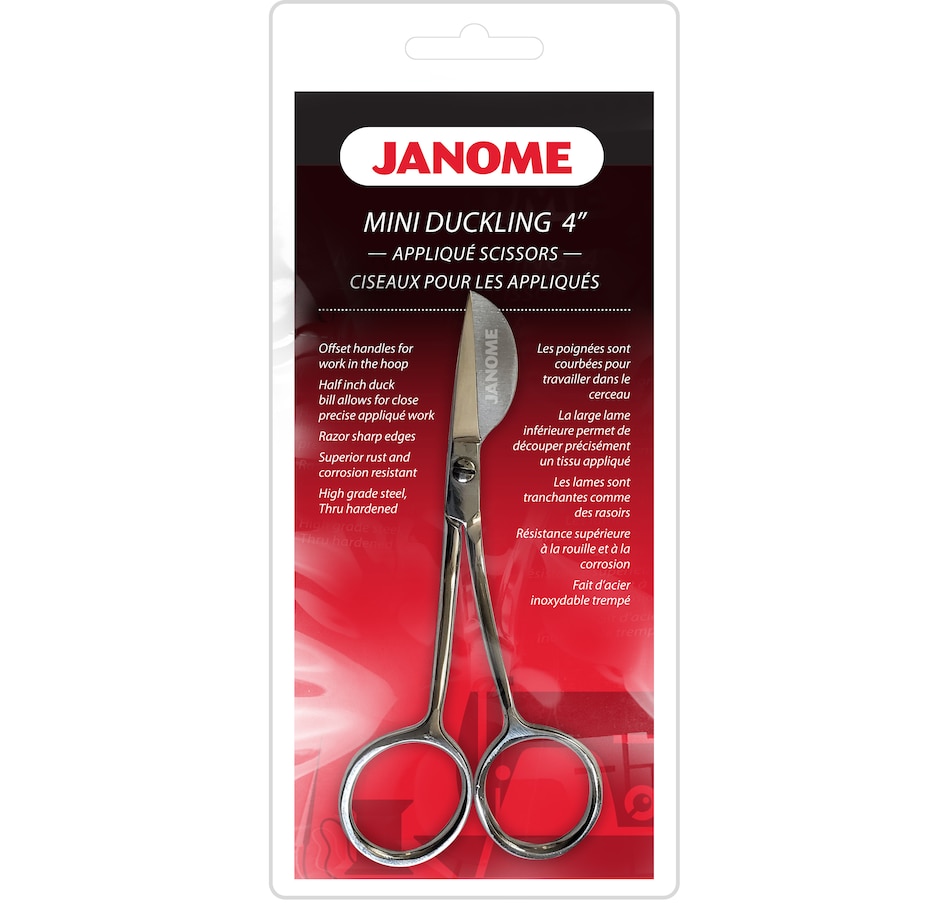 Add these to your Christmas wish list and they'd make a fabulous stocking stuffer, too! They are very sharp and get really close to the stitching, while the duckbill protects the fabric underneath from getting snipped accidentally.
The instructions at Sweet Pea are extremely easy to follow with great pictures if you are a visual learner.
Once all four blocks are completed, I sewed them together and picked a flannel backing. I pinned in place and sewed all around leaving the bottom open to flip right side out.
When all the corners are pushed out, I top stitched all around.
All that is left is to add a snap at the neck band.
What I love about doing an ITH applique project, is you can choose your colours. The colours that are listed in the pattern are just suggestions. You can create your own personalize gift and have a pink elephant, if you'd like, or any colour you want!
Thank you Sweet Pea Embroidery Designs for allowing me to use your design today. It's sew cute!
Happy Sewing!