I would love to create a Christmas Tree and decorate with only Sewing Accessories. I think that would be lovely, but I don't think my husband would be overly thrilled. One of the things I would hang would be bobbins.
Having extra bobbins on hand is always a great idea. You never know when the cat will steal one, or you step on one and break it. Ask me how I know! Haha!
Janome is celebrating their 100th Anniversary this year so they've brought out a special anniversary edition box of 25 pink bobbins with the commemorative 100th anniversary logo. Wouldn't these look beautiful strung together wrapping around a Christmas tree, or dangling off the tip of the branches like an icicle?
Add more colour to your holiday decorating with the Janome Pink Cherry Blossom bobbins box; Blue Butterfly bobbins box or Ruby Red bobbin box.
Some people ask, "Why have a coloured bobbin?" Aside from just being attracted to the colour, sometimes coloured bobbins are included to match the coloured accents of a machine. like the Ruby Red bobbins included with the special Canadian edition of the Janome 3160QOV Quilts of Valour machine, which has accents of red around the LCD screen and in the logo.
Some sewists like to have their specialized thread on a coloured bobbin, like polyester thread on blue bobbin, for example, or metallic threads on the pink bobbins.
Janome also has Pre-wound bobbins, which are clear, wound in black or white thread. These are re-usable bobbins, so a great way to build-up your stash of extra bobbins.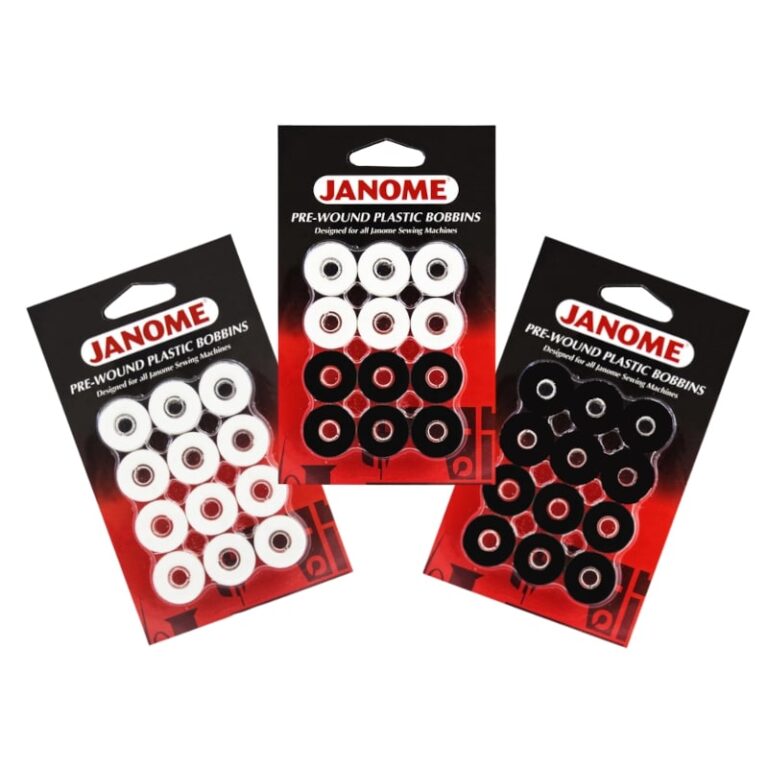 These are great as they save you time, but they also hold more thread than if you wound it yourself because they are wound with a higher/ tighter tension. I actually transferred one onto an empty bobbin to see and I was pleasantly surprised how much thread there was!
For more decorating tips with bobbins, and all sorts of sewing accessories, watch this Facebook Live video on the Janome HQ You Tube channel.
Contact your local Janome Dealer to purchase your clear, coloured and/or pre-wound bobbins. You may want to grab some needles too! Not pine needles for your holiday decorating, but our fabulous Janome Red tip, Janome Blue tip and Janome Purple tip ones for all your sewing needs. Wouldn't they be beautiful decorating a Christmas tree? I wrote a previous blog post to explain the different types of needles Janome offers. You can find the handy needle chart to print on Janome.CA.
Happy Sewing!