No matter how much time you spend sewing, you need to be comfortable. I know that if I'm not in my Arrow Fabric Sewing Chair, my shoulders and neck really start to bother me, even after a short time at my machine.
Arrow Sewing Chairs come with either a hydraulic lift, as pictured above, or with wooden legs. There's so many fabrics, colours, prints and finishes available, so review the many previous posts on Janome Life and check with your Janome Canada dealer for details.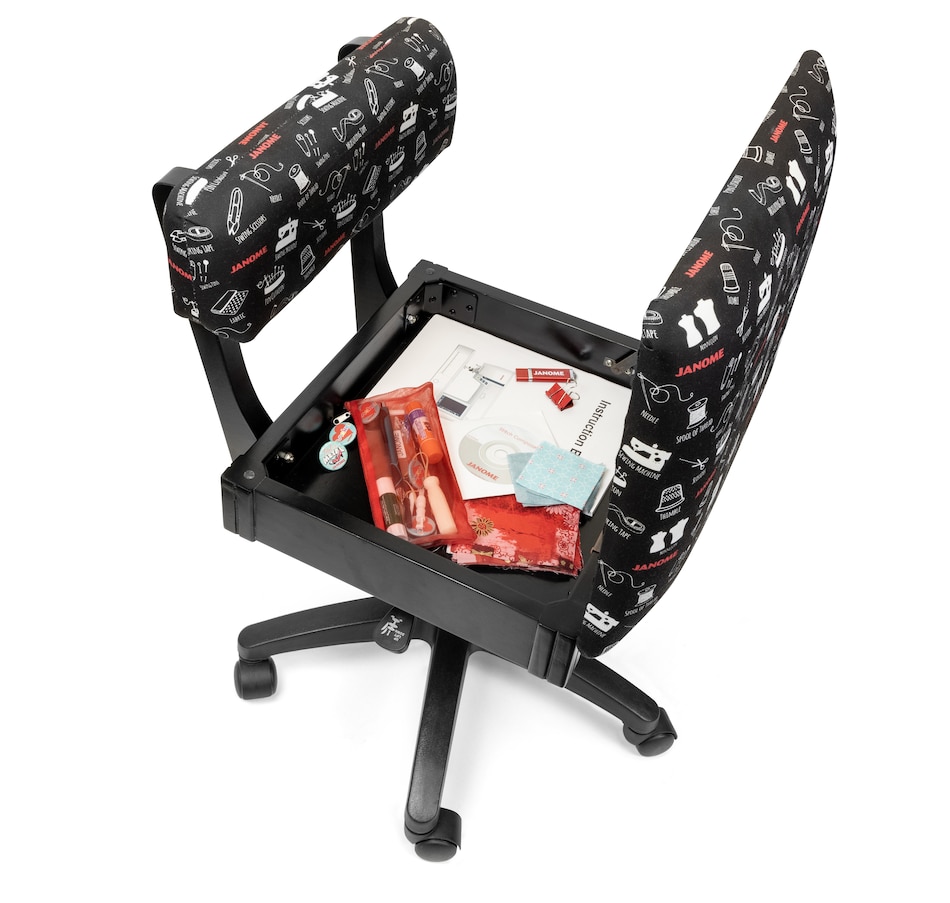 Not only are they so fashionable and comfortable, they each feature this great storage area hidden under the seat. If you own one of these fabulous chairs, what do you hide in yours?
When I'm not sewing at home; attending a class. retreat, or over at a friend's house, it's difficult to bring my chair with me, so I bring the next best thing….my Janome Sew Comfortable Cushions. I throw them in a bag and away I go! Janome's Sew Comfortable line of Memory Foam products provide extra strength and support, just where you need it, as well as feature an ergonomic design that promotes good posture, and ensures your comfort. There are 3 different models available:
The Janome Sew Comfortable Lumbar Support Part Number JALUMBAR helps me to sit up straight and reduce the strain on my back. There's a adjustable elastic strap at the back of the cushion, so it will securely fit around any chair.
The Janome Sew Comfortable Seat Cushion Part Number JASEATCUSHION offers more firm support and makes any chair instantly more comfortable. It's also good to use if you don't have an adjustable chair and need to sit a little higher.
The Janome Memory Foam Foot Rest Pillow Part Number JAFOOTPILLOW is ultra-comfortable with a memory foam core that contours to your foot. Use this for your non-sewing foot to promote improved circulation and alleviate pressure be keeping your foot elevated as if it were on a foot pedal, as well. It's just like the extra foot rest built-in to most automatic cars. The more comfortable you are, the more productive you are!
Or, place both feet up on the foot pillow while using the seam ripper, or while reading your instruction manual so you give your feet a break. The breathable mesh cover is washable so it'll stay looking new and clean for years! Memory foam is known for its quick-recovery, comfort and durability, lending itself for years of continued use, so you'll enjoy these Janome Sew Comfortable cushions for years to come!
For the sewing person on your Christmas, Birthday or "just because" shopping list who has everything, or, to instantly give yourself a lift and to improve your sewing productivity, contact your local Janome Dealer to purchase these wonderful products!
Happy Sewing!